Can Solar Panels Improve Property Value?—Here's the Answer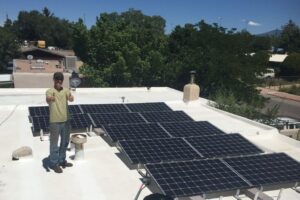 What's the fastest way to get an answer? Adding solar panels to your property will boost its market value by at least that much. According to the National Renewable Energy Laboratory, installing a solar energy system may raise the market value of your house by $20 for every $1 saved. If you put solar panels on your house, it will make it worth more money, but it will also speed up the sale of your house by 20%.
The Value of Solar Panels on Residential Buildings
Solar panel owners are experiencing a rise in the value of their homes compared to other properties in the area. One of the main reasons the value of homes with solar panels is going up is that future owners will be able to make money if they buy one.
For the following reasons, buying a property with a solar energy system is recommended:
This allows you to replace your current power bill with an alternative that is more affordable and greener.
Reducing the amount of carbon dioxide, emitted
Investing in Solar Panels is Encouraged by the Seller
For every 1kW of solar panels added, the resale value of a property may increase by an amount upwards of $4,020. The value of your home will rise if you install a more extensive solar energy system. A 5kW solar panel installation, for example, will raise the market value of a mid-sized home by an average of $20,100. In a middle-class area in California, a 3.1 KW solar panel energy system may add an average of $12,462 to the property's price. Your property's value may soar if you install a solar energy system.
You'll get a lot of advantages if you decide to sell your products shortly.
Sell your house for more money.
Cut down on the amount of time your listings are out there (sell your home much faster).
You'll get close to 100% of your solar panel investment back when you sell your property.
Selling your property for a profit is influenced by several factors.
Your home's location is referred to as its "location."
Your solar energy system's capacity
Your solar panels and inverter's age
The efficiency with which your solar power system converts sunlight into usable electricity.
Your home's current market value
Buying a Home with Solar Panels Offers Buyers Several Benefits.
Solar panel incentives are passed on to future buyers since a property's market value rises only when power costs increase. Customers' future benefits will rise due to this increase in value.
It's possible to get a return of 200 percent with a tailored solar panel installation.
With these returns, you'll be hard-pressed to find a better financial investment.
Your power bill will be cheaper on day one.
You will save money every year during the 25 to 30 years that your solar panel system will be in use.
For your solar energy system, in most instances there is no down payment required.